"As You Like It" Ice Cream Shop has been serving ice cream on the same corner in Raritan, NJ for 37 years. We like to think of ourselves as the neighborhood shop you've come to know and love! With so many delicious flavors of premium ice cream and loads of sweet toppings you can enjoy your ice cream as you like it.
We are open for the season from mid March to December. Stop in for some ice cream or just to say, "Hello!"

We carry 24 flavors of hard ice cream, vanilla & chocolate soft-serve ice cream, soft-serve nonfat frozen yogurt and for those who have to watch their sugar intake, we have soft-serve no sugar added nonfat ice cream.
Our ice cream cakes are all made right here at "As You Like It"! Choose from our standard vanilla & chocolate or any combination of available flavors.
Ice Cream Cake Sizes and Prices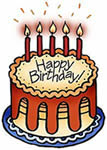 Need a gift for that hard-to-buy-for-ice-cream-lover? We sell gift cards and gift certificates.

Learn more
Order Online