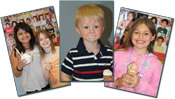 There's a colorful portrait gallery downtown where the subjects are children who, more often than not, are photographed with smeared and smiling faces lapping at an ice cream cone.
The "gallery" in question is actually "As You Like It" Ice Cream Shop at the northwest corner of Wall and Somerset Streets.
Every spring since 1985 when temperatures rise high enough for the tots to start leaving their heavy coats at home, Malinda trades in her ice cream scoop for a camera. In the early years, she used her Minolta 35mm SLR camera and Vivitar zoom lens. Three years ago she traded her film camera for digital. For a month or so she shoots color close-ups of the young ice cream lovers, until she has enough to fill seven rows of sixteen photos each.
Tom and Malinda then mount the pictures on a white wall opposite the counter inside the shop, forming a fun mosaic of ice cream coated grins!
Checkout the "As You Like It" Facebook page. You can find the Kidz Pics in the Facebook Photos area.
We look forward to seeing this year's ice cream faces!